ELISA Kits and Antibody Arrays
Hi Performance Single, Multiplexed Arrays and Single Target ELISAs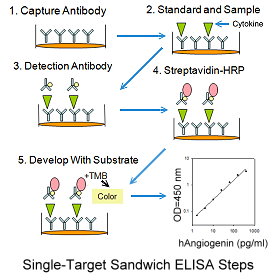 Many biological processes such as apoptosis, inflammation, angiogenesis, immune response and migration often accompany changes of cytokines, growth factors and related protein expression levels.
We are pleased to have Raybiotech as our partner for providing our customers ELISA Kits and Antibody Arrays. These are designed to accurately determine these changes. You now have many options for the either the qualitative, semi-quantitative or quantitative measurement of protein expression. From single antibody pair ELISAs to multiplexed arrays.
These antibody arrays allow a much broader view of protein activity than can be obtained with single-target ELISAs and Western blots. Moreover, antibody array screening improves the chances for discovering key factors, disease mechanisms or biomarkers related to cytokine signaling. These offerings currently include:
Quantibody® Antibody Arrays
 are array-based multiplex ELISA system for simultaneous quantitative measurement of multiple cytokines, growth factors, proteases, soluble receptors, and other proteins in a wide variety of sample types. Quantibody® combines the high specificity and sensitivity of ELISA with the high throughput of the glass chip-based array.